Advertisements in the Game and Application Catalog
As a main means of promotion, you can place your advertisement in the most visible place via Target.
128x128-sized banner is visible right after a user enters the games section!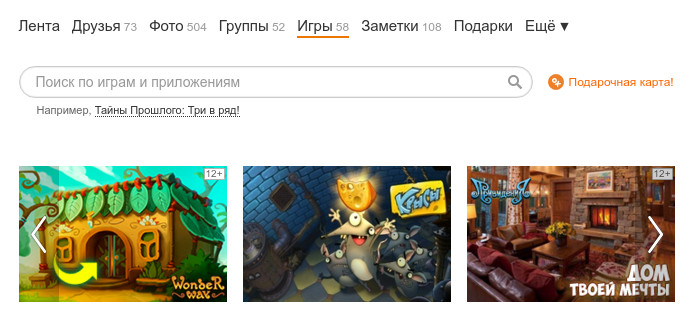 You can place the cover of your game in the "Recommended" section when the following conditions are met:
you are a developer of the game or application on Odnoklassniki;
your application (game) is placed on the Odnoklassniki site.
How to place it:
when creating a new advertisement, choose the "Cover" type of campaign (1);
indicate the application address (2);
the image uploads automatically (3);
target the campaign;
get new visitors for your application.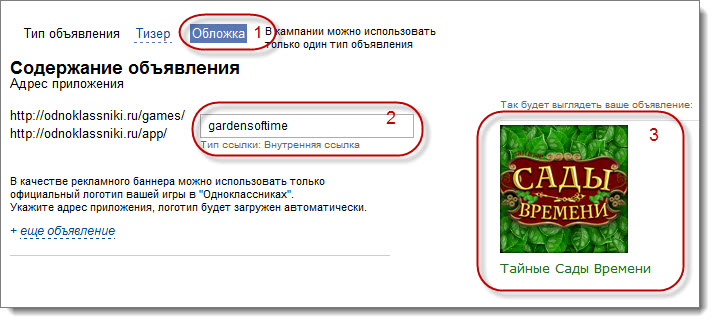 The advertisement system for application developers, myTarget, accepts payments in OKs earned in games (only for residents of the Russian Federation).
Advertisements placed through the system are displayed in site sections that are most relevant for game promotion.
OKs earned in games are transferred to the developer company's account every day. Reports can be found in the "My Games" section, after clicking on the "Company Finances" link. As we consider this information very important, it can be accessed only by one authorized company representative.

Please address any technical questions (about setting up or issues with advertisements) to support_target@corp.my.com. Address financial questions (regarding problems with Target) to mytarget.finance@corp.my.com.