Native mobile platform
The main provisions
Welcome,
The launch of OK.ru native mobile platform for publishing iOS/Android games is approaching. With the launch we would like to provide OK.ru users with a variety of mobile games to play. To this end, as a first wave of published games, we look forward to have games of many different genres represented in our catalog. Moreover, at the time of the launch of the platform, we will publish a single game in each corresponding genre to prevent the competition between games of the same genre.
At the moment we are looking for games of the following genres:
Hidden Object;
Quiz;
Poker;
Racing;
City-builder.
The games of the following genres are already represented in the first wave:
Match 3 puzzle;
Turn-based strategy;
Action-RPG;
Time-management strategy, clicker;
Dating app;
Farm;
Casual strategy with match 3 elements;
Card battler.
NB! The information stated above by any means does not prohibit you from already sending us your games that you want to launch on OK.ru native mobile platform during the second or later wave.
1. Partnership details
The partnership involves integrating our SDK in your game and publishing it in our mobile catalog. We promote your app and boost it with OK.ru audience. In return we ask for a 50% revenue share after App Store/Google Play commissions for purchases made by users who logged in to your app through OK.ru.
Learn more about all the conditions in our public offer.
Warning! If you are interested in publishing your game on OK.ru mobile platform and agree to these conditions, apply via sending an e-mail to Egor (egor.danilov@corp.mail.ru) with a link to your game and "%name_of_your_app%, launch on OK.RU native mobile platform" as the subject.
2. How to submit your game to OK.RU mobile platform
Submission steps:
Translate your game to Russian;
Show OK.ru authorization screen as the first screen in your game for those users who install your game through OK.ru catalog (see FAQ for recommended method on how to do so);
You are allowed to use MyTarget if you want to display ads displayed in your game. You can use them with at least one formulated interstitial or in accordance to individual developer or moderator requirements. Detailed information on how to integrate MyTarget ads is available under this link;
Implement this sdk.reportPaymentmethod to report successful in-app payments;
Create an official group on OK.ru for your game. Make a separate topic with the description of your application and add the link to it in "Application description" in your game settings. You can find detailed instructions on how to create a group and add a topic to it under this link;
Display the link to official group in your game (for example in game menu);
Send the game for the review. During the review we will test the game, our SDK implementation and other aspects.The reviews process is initiated through JIRA. All the requirements are detailed on this page.
2.1. iOS game launch specifics
Developers who wish to launch iOS versions of their games on OK.ru mobile gaming platform should send us their game's 'Odnoklassniki app ID' as soon as they've decided to integrate with our platform. This step is obligatory because Apple allows application to open other apps, only when they are mentioned in specific URL-schemas of the first application (that was reviewed by Apple). In order for us being able to release your game when it's ready and successfully passed our moderation process and not only when our own iOS app passes another regular App Store review, you should send us these IDs beforehand (preferably one month in advance).
Each game receives its 'Odnoklassniki app ID' when developer uploads his game to our platform. The same ID is required to activate our SDK. You can find it by logging into Odnoklassniki and then clicking Games → My uploads → Your desired application.
ID will appear in the address bar as shown below: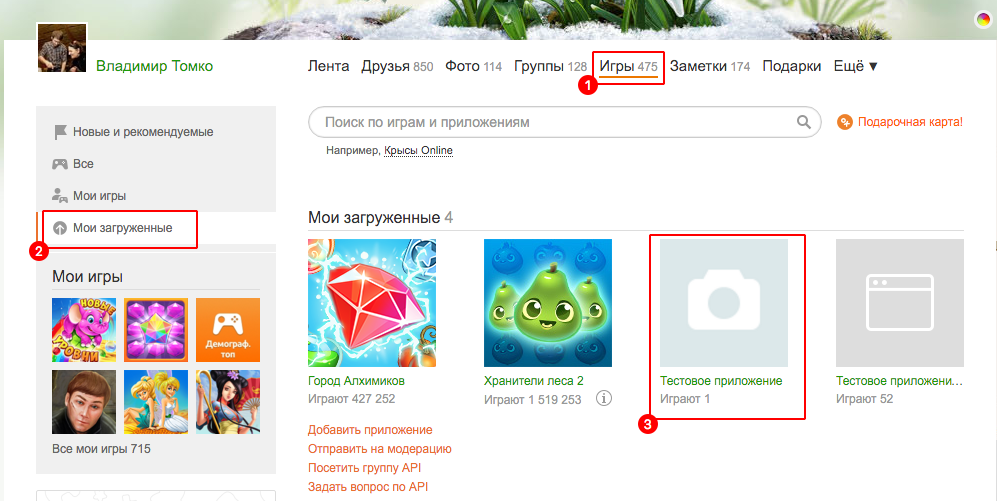 3. Frequently asked questions
3.1. General questions
Where and how my game will be promoted?
At the first stage the game will be available in the native game catalog, which will be launched in April 2016. We will not promote each game separately, but we will promote the whole catalog. If the game shows relatively good results during the launch, then we will promote it outside the catalog. The success of any given game will be determined based on metrics reported with methods that are part of our SDK.
Do we have to publish a separate game with OK.ru branding to App Store/Google Play?
No, you are not required to do so.
From which account should I publish my game to App Store/Google Play?
From your account.
Will the game catalog be synchronized between different platforms (will iOS and Android version have the same games)?
No, the game selection in iOS and Android will most likely differ.
Will the native mobile catalog replace the old HTML/HTML5 mobile game catalog?
The old catalog will be replaced in our official Android and iOS apps, the mobile browser version (m.ok.ru) will still contain the old HTML/HTML5 game catalog.
Is MyTarget ad display required when launching a game on OK.ru mobile platform? In other words, if our app does not have any ads, do we have to implement them?
The ad display is not required. If your app does not have ads then you are not required to implement them.
Please explain in detail how revenue share works?
We only ask you to share the revenue from the users that have authorized in your app through OK.ru, irregardless of whether the user have installed your game through our catalog, or directly from Google Play/App Store. If the user logs out of his OK.ru account in your app, we will no longer ask for revenue share until he logs in again.
Warning! Please note that any attempts to encourage users to log out of their OK.ru account inside your app will lead to its removal from the catalog.
When is the platform going to launch?
We will launch the platform as soon as we have at least 5 to 10 games in our portfolio. Currently, we plan on launching it late early/mid April 2016. We will inform all the first wave game developers in advance.
Will the popular attribution and tracking platforms, such as AppsFlyer, display the users that came from OK.ru?
We are in the process of negotiating with AppsFlyer, KOCHAVA and adjust to get to display our users on their platforms. Currently they are not displayed separately from other users.
Is the official offer going to change in near future and when will it get public?
The official offer is now public, you can download it here.
You mentioned that OK.ru will offer games a boost in traffic, could you elaborate in detail on how is it going to work?
We have implemented a three-level traffic boost system in our platform:
First level – the game is published in catalog. There it receives organic and viral traffic, at this point OK.ru does not provide any additional promotion;
Second level – we monitor every app that we publish, in case if a game shows good metrics, we promote it to this level and begin to use OK.ru tools to attract more paying users to the game;
Third level – is awarded to a second level games that performs better than their counterparts, at this point we provide the game with the most paying user traffic that our platform has to offer.
Every game can either get an increase or decrease in the level depending on its performance.
The exact formula used to determine a success of a game is not refined yet, we will modify and adjust it after publishing the first wave of game.The formula will involve such metrics as audience size, D1, D7, D14 and D28 retention, ARPU and % of paying users. Time period for metric reports is not defined yet, but they are most likely to be from two weeks to a month long.
Once the details on the process are finalized, we shall post them on this page.
Will your platform support some kind of featuring? How will the first wave games be featured?
Featuring or 'Recommended' section is planned and it is going to function approximately the same as on OK.ru web games platform. The first wave apps that are launching with the platform, will be featured sequentially and randomly. Further on, games that show good performance can expect to be featured.
When launching an app on OK.RU native mobile gaming platform, which countries should it be accessible to?
Your application must be accessible to Russian Federation, all CIS countries and Baltics. It is, however, preferable that your app is accessible globally across the world.
3.2. Technical questions
How to determine if the user installed my app through OK.ru?
Currently, we ask you to check if the user has OK.ru app installed, if they do, show our login page as the first page in your game. To check if the user has OK.ru app installed use smartAppBanner or JS.

We've created a special anonymous API method (sdk.getInstallSource) which in the near future will be implemented into all of our SDKs, but as of now, it should be implemented on developer's side. You should call this method when a new user installs your app and ask it whether he came from Odnoklassniki or not, – method will return an answer.
If you have any questions regarding the implementation of this method, please send us an e-mail to mailto:api-support@ok.ru indicating "%name_of_your_game%, sdk.getInstallSource" as subject.
We have a problem with sdk.reportPayment method, we get a message that it is for internal use and white list use only, what to do?
Send your game id and name to api-support@ok.ru
Our application requires LONG_ACCESS_TOKEN and VALUABLE_ACCESS permissions. How can we get them?
Send a link to your app and your app id (obtained after you upload an app to OK.ru) and required permissions to api-support@ok.ru
NB! After platform launch such issues will be resolved through JIRA.
What if we experienced an error when sending a report on transactions and we are unsure if OK.ru has registered it correctly?
Try to send the report again. Even if you receive no answer, the data went through. We track all the payments with unique trx_id and in case that there are several identical trx_ids they are all merged into one during payment report preparation to exclude duplicates.
The MyTarget platform currently does not have "rewarded video" format, can we use Appodeal (or any other) platform, that cooperates with myTarget and already has this method enabled and show myTarget ads through it?
No, we only work with MyTarget platform. Currently MyTarget are working on reward video method and it is expected to go live in April 2016. If you wish to know more about this, write to this e-mail.
Working with your SDK code on Gitub, I have found a bug and have fixed it or I have improved your code. How can I offer you my fix/improvement?
You can make a pull request on Github. Our developers will then review it and, in case that it works correctly and your code is acceptable it will become a part of OK.ru SDK.
What is the best way to report errors or bugs when working with your SDK?
Create an issue on our GitHub, so that our developers can see it directly.
We've changed the old featuring banner to a new one, but the old one still appears in the featuring section of the game showcase. How do we fix that?
You've probably replaced the image of the banner, but kept its URL the same. For example, the old banner was available at http://www.mojaigra.com/banners/ok/featuring.png, then you've replaced your banner image, but new image's name and place where its stored are still exactly the same as the old one's. In this case, our users won't see your new banner for a long time because our platform caches the images by their URLs. You either need to place the new banner in a another folder (http://www.mojaigra.com/banners/ok/2/featuring.png) or to name it differently (http://www.mojaigra.com/banners/ok/featuring2.png). If everything is done correctly, then the new banner will appear in the in the featuring section of the game showcase during the next 10 minutes.
3.3. My question is not listed in this FAQ
In case if you have technical questions, you can also ask them at our Toster where members of our community or programmers will be able to help you.