Games in messenger
Games in messenger, what are they?
Games in messenger are fast and modern HTML5 applications with mandatory synchronous or asynchronous PvP gameplay that are launched directly from personal messages inside OK.RU.
Both "Uniwordsity" and "Sea Battle (Морской бой)" are good examples of games in messenger concept:

Games in messenger must have these features:
mandatory PVP mode against the person you are chatting with (only 1 vs 1 at the moment);
game app is launched on top of the chat window, both in web and mobile versions of Odnoklassniki;
all game entry points are located solely in personal messages screens;
game application periodically post different status messages in chat where it was launched;
game session is always finite and has a result where victor is declared;
game can be accepted and played through:

web version of Odnoklassniki;
mobile web version Odnoklassniki;
Android and iOS native mobile applications "OK";
Android and iOS native mobile applications "OK Messages".

game can be initiated and played through:

web version of Odnoklassniki;
mobile web version Odnoklassniki;
Android native mobile application "OK".
"Chat" platform acquisition process
In order to launch your game in messages on OK.RU, you need to choose the "Chat" platform when sending your game to moderation.

In order to receive the "Chat" platform your application must meet several criteria:
Have sound;
Be modern and attractive*
Have freemium monetisation model implemented (like all the social games on OK.RU)
Be playable (and not lag) on iPhone 5s and Nexus 5 devices*;
Display all visual game content correctly across all modern web browsers and mobile browsers on Android and iOS;

on all the unsupported browsers it is imperative to display a special information window which offers user to update his browser to the latest version or to install a different, supported one;

Support time-limited PvP mode;
Weight 3 megabytes or less;
In Chrome for Android have a toolbar painted orange (color #E57704, here you can find how to do it);
Implement and show our mobile widget for sessions that are launched from mobile browser and hide it for sessions that are launched within our Android application "OK";

Important: you should use your own skin for our mobile widget, the one that matches your game's visual style and that will look great on retina displays. An example of mobile widget's skin from "Sea Battle" game:

*measure of attractiveness and playability is defined by OK.RU employees during the moderation process
After acquiring the "Chat" platform, it will be possible to launch the game in OK.ru testing environment for all the game's app developers. In order to become an app developer on OK.ru, user must visit this hyperlink and accept the terms and conditions there. After that, in application settings (Developers section), this user can be added as game developer (he should be a friend on OK.ru with the person who wants to add him as game developer for the application before that).
The only entry point for games in development is located on web version of OK.ru inside the paperclip's menu in the messages section and is titled as "Games under development":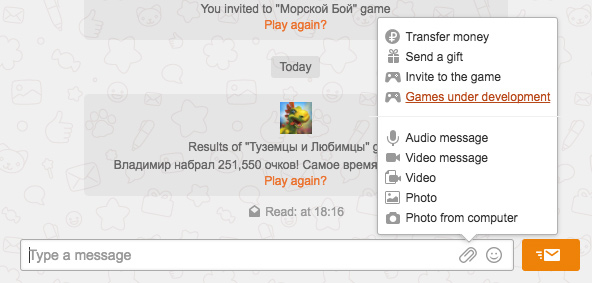 Additional parameters
When launched from the messages screen, game receives opponent_id and state properties in parameter custom_args – they should be used to correctly connect players with one another.
Full game session lifecycle
When the game in messenger is launched, it's full lifecycle looks like this:
send game invitation to opponent in chat using method messagesV2.sendGameInvite with timeout for accepting the game invitation;
while the competition happens in-game and one player earns more points than the other/achieves victory, send game update status in chat using method messagesV2.sendGameUpdate with timeout left till the end of the tournament;
send game result status in chat using method messagesV2.sendGameOver with the information about the tournament's winner.
Important information
Both completely new, lightweight HTML5 games specifically developed to engage users in chat to play with one another as well as separate PvP modes for already existing lightweight social HTML5 games previously launched on OK.RU platform can serve as such "Games in messenger" exemplum.
A good example of such approach is Uniwordsity that is launched in web game catalogue, mobile HTML5 game catalogue and messages game catalogue, while offering different experiences to players based on the launch source.
Contact information
If you have any questions feel free to write us an e-mail at our API support or ask us a question at our Toster page.
Here you check all the available means of communication with us.