Promo image in user's feed
OK Games platform can provide an assistance for in-game promo events that are currently running in game.
At the moment we provide an additional promotion via featuring a game banner at the top of user's feed.
Here is an example on how it looks: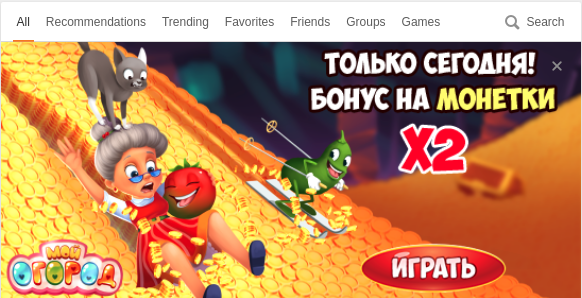 Promo events conditions
all information about promo event must be provided 7 days prior to it's start;
first day's income should be at least 2 times greater than common day's income;
only published apps can participate in a promo event;
time period for which we support an event depends on it's success and it's length.
Useful tips to make your promo successful
Promo must provide a significant profit to user. We recommend to give no less than 40% bonus value to users.
Group post to advertise a promo is a must. Stick it to the top so users can always see that promo is running at the moment.
Inform users about your promo via notifications. Notifications must contain information about your promo, i.e.: "60% bonus for all in-game purchases for a limited time".
Display a promo on app launch. It is highly recommended to advertise your promo in a game itself.
All promo images must contain information about your promo:

Good example: "200% bonus for all coin purchases".
Bad example: "Look at this", "Visit our game for a bonus".
Requirement for promo event materials to run them on OK Games platform
All promo materials should be send at least 2 days prior to event start.
Banner requirements:
size: 546 x 245;
must contain game logo;
must contain a call-to-action button;
all event information must be available in game.