OK.ru support a feature of in-game subscriptions for game applications. Game subscriptions allow users to make subscription-based purchases instead of classic single time purchases.
If user has purchased a subscription he will be charged for set amount of OKs every subscription period.
App subscription are available on all OK platforms:
desktop web;
mobile web;
android;
ios.
How it looks
In-game subscriptions are implemented as a part of OK.ru's UI. To offer a subscription to user developer can show a special subscription dialog which contains all required information: subscription's name, description, it's icon and price.
In this dialog user can either purchase or cancel subscription.
Desktop web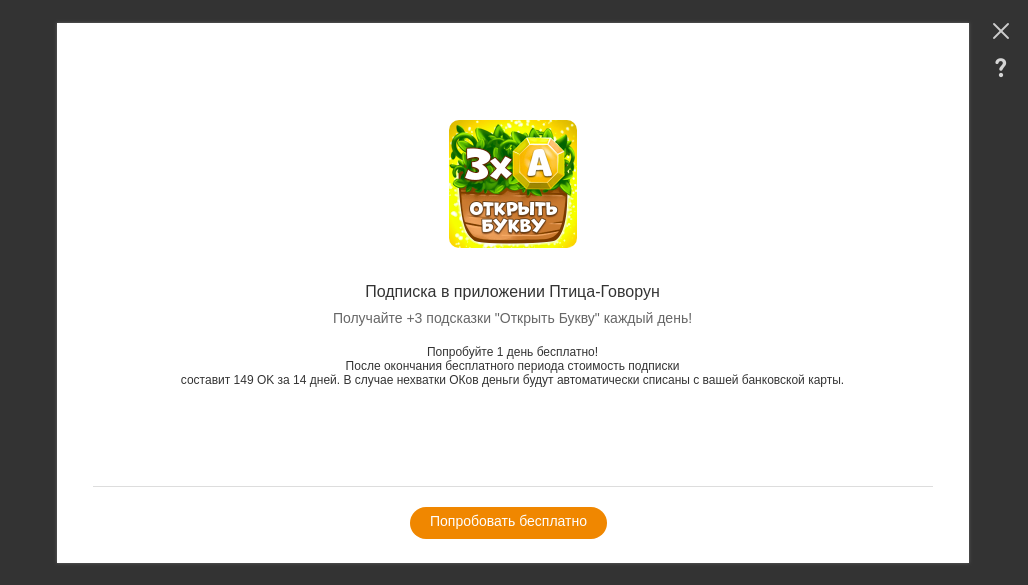 Mobile platforms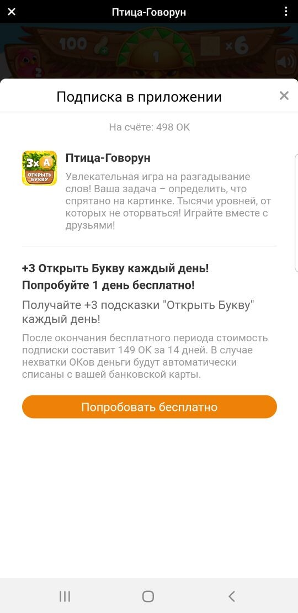 If user has successfully purchased a subscription, it will be displayed in a special game subscriptions dialog which shows what current game subscription user has purchased (WEB, MOB).
Features
We highly recommend to use a trial period feature of in-game subscriptions. According to our information if user is offered to purchase a subscription without trying it for free drastically larger amount of users will refuse to purchase it.
Amount of subscriptions for every game is not limited. Every game can have multiple active subscriptions and each of them can be configured differently.
Following configuration options are available for developers:
trial period duration - period during which user is provided with subscription's service / bonuses but uses it for free and is not charged with OKs. Period can be set in days, hours and minutes.
period duration - OKs charging periodicity. Every set period of time user will be charged by amount of OKs equal to subscription price. Period can be set in days, hours and minutes.
subscription name, description and icon which help user to identify what service or bonuses he gets for purchasing this subscription.
subscription price - amount of OKs to be charged every subscription period duration. Should be set in OKs.
How it works
To enable subscriptions in your game you need to complete two following steps:
register a new subscription for a game;
implement game subscriptions in your app using our API.
Creating a new subscription
To add a subscription please write an e-mail to api-support@ok.ru with following data:
| Parameter | Description | Unit |
| --- | --- | --- |
| Trial period duration | Duration of a trial period. On trial period subscription is free for user. Minimal trial period duration: 1 day | Days, hours, minutes |
| Period duration | Subscription period. Every set amount of time user is charged for selected amount of OKs. Minimal subscription period: 1 week | Days, hours, minutes |
| Price | Single period price | OKs |
| Subscription icon | Subscription image URL. Image's size must be 256x256 |   |
| Product id | String identifier of a subscription |   |
| Name | Subscription name. Must have a size of 1 to 3 words |   |
| Description | Short subscription description. It must describe what user is purchasing with corresponding subscription |   |
For example, subscription can be configured like this:
trial period - 3 days;
period - 1 day;
price - 50 OKs;
product id - apples;
name - "Three apples each day";
description - "Get three bonus apples each day".
For such subscription user will be charged for 50 OKs every day. First three days are going to be free for user. And the most important thing - user must really get three apples each day while subscription is active.
Subscription dialog
To offer user to purchase a subscription you need to show special dialog window where he can view subscription information.
To do so you need to use FAPI-method ui.showPaymentSubscription.
Subscription purchasing
If subscription is active and trial period is finished, user will be charged for set amount of OKs every subscription period.
All "purchases" are going to be displayed on game's payment statistics page.
In it happened that user has no OKs subscription does not cancel automatically. In this case money will be charged directly from his card.
Cancelling a subscription
At any time user can cancel a subscription via UI.
If subscription is cancelled all payment are stopped and user must not be provided with subscription bonuses or services anymore.
Subscription status
To have a control over subscription status we user payment callbacks just as in ordinary game payments. Every action is followed by a HTTP GET request from our service to game's callback url.
Our payment service is expecting a specific response from your callback service which should be similar to common game payment: callbacks.payment
Request should be validated and if everything is correct callback service must respond with 200 status code response and XML type content.
Callback request depends on what type of action that has happened:
new subscription (or first subscription payment) - user can be notified that he has purchased a new subscription. He must be provided with subscription bonuses or services;
subscription cancelling - user can be notified that his subscription has ended and he is no longer provided with any bonuses or services;
subscription payment - user must be provided with bonuses or services.
With each subscription's status change it's end time is provided so you can process it correctly on your side. Parameter is passed in a callback as one of the fields in extra_attributes request parameters (named subscriptionEndDate) and follows this format: DD-MM-YYYY hh:mm:ss.
New payment or subscription request
if user has subscribed or a new payment was proceeded, following request will come to your callback service:
https://callback.url/
?transaction_id=transactionId
&sig=270c83248ac45232be85bbbe3be7613b
&uid=123456789012
&amount=10
&method=callbacks.payment
&transaction_time=2017-11-08+00:21:10
&product_code=productCode
&extra_attributes={"subscriptionEndDate":"20-11-2018 13:07:04","action": "reg_subscription"}
&application_key=CBAKMLELABABABABE
&call_id=1510089670220
Trial payment request
If payment or subscription is proceed during trial period, another request will come. It will contain different parameter extra_attributes value and no transaction_id:
https://callback.url/
?&sig=270c83248ac45232be85bbbe3be7613b
&uid=123456789012
&amount=0
&method=callbacks.payment
&transaction_time=2017-11-08+00:21:10
&product_code=productCode
&extra_attributes={"subscriptionEndDate":"20-11-2018 13:07:04","action": "trial_subscription"}
&application_key=CBAKMLELABABABABE
&call_id=1510089670220
Subscription cancellation request
If user has cancelled subscription following request will be made:
https://callback.url/
?sig=270c83248ac45232be85bbbe3be7613b
&uid=123456789012
&amount=0
&method=callbacks.payment
&transaction_time=2017-11-08+00:21:10
&product_code=productCode
&extra_attributes={"subscriptionEndDate":"20-11-2018 13:07:04","action": "unsubscribe"}
&application_key=CBAKMLELABABABABE
&call_id=1510089670220