Play a game task in OK's gamification service
OK's gamification service is a service that provides a number of daily and weekly activities for our users. When a user completes such activities he is rewarded with a special "rubies" currency that can be spent on various services OK that provides.
On of such activities is a "Play a game [X] for 5 minutes" task.
Two types of game-centered activities are available for users:
a series of periodically updated game tasks. List of games is formed by OK's game platform team. This is a regular task series that is available for all users at any time;
a single game task.
In both cases a game can be featured in gamification service. To make it to this list you need to apply for promo and pass a moderation process successfully.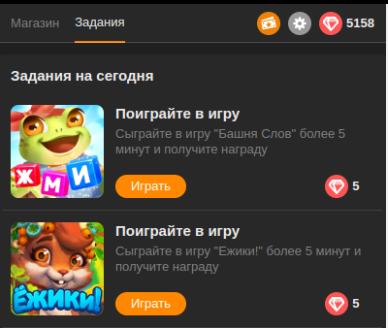 How to apply
To apply for promo you need to specify this information:
game that you want to apply with;
period of a promo.
You can also specify following optional parameters of a promo
an image of a game that will be used as a task icon (size - 128x128, format - png). If not provided, default game icon will be used;
user requirements such as gender, age, last activity date in a game or a last payment date in a game.
Promotion period
Base period for which "Play a game" task is active is 2 weeks.
If promo is successful we reserve a right to extend promo period for another week or 2-3 weeks.
Additional information
To detect if user launched a game from a promo you can user refplace parameter passed to a game. For such launches PROMO_SHOP (id = 193) refplace will be used.